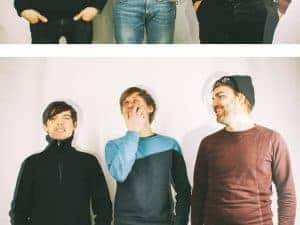 I know these DIY-kings for quite a while, and attention – fatherly speaking – watched them grow, and become musically ripe and successful with their old bands. we were not always on the same page when it came to music ideas, "strategies" if you want to call it so, but i always admired their will to go their way, to put as much time in a project as it needs to have to become great. a lot of passion, thats what these guys are. a pain in the ass sometimes, but always on the lookout for best come out. the easy ways would have been to do everything like it was on the record before but they are not up for easy (…you will not hear a single similarity to their old bands).
old farts of the german hc/punk community. say hello to your daily dose of powerrock. you dig Doomriders or early Mastodon? Caffeine will be your new best friend.
heavy & complex music is often challenging – you need to understand whats happening, or at least feel the vibe. i am not interested in music which only wants to be a riddle for the listener. on my opinion there needs to be another thing in this kind of music accomplished: it simply has to have its rocking side. the tech stuff is not allowed to suffocate the groove, the fun if want to call it like this. i played drums for long time in different bands, i never was a good technical drummer – unlike the drum maniac in Caffeine – but i understand the challenge to do complex music which is fun and makes you wanna swing your 
rusty hips. Caffeine accept this challenge: they deconstruct, they are not willing to take the easy way, detours are allowed and often let you take a glimpse on things, you would not have seen on the direct way. and i promise, there a a lot of nice "non tourist" spots along this way. After checking these nasty places, they take you back straight to all the fun-spots. they serve you all: the a-part-only-is-allowed-to-be-played-once-guys will be pleased as well as the shit-must-be-groovy-dudes – and you know what: it sometimes gets spooky here as well!
so here we are – meet this three-piece from Hannover. You know probably all of them from a ton of former bands, like Perth Express, Glasses, Problem Is You, The Pyre… Anyways: Caffeine are nothing like these, Caffeine are a good flip through your favourite postmetal records. Apocalyptic, monumental, devastating… think of Coliseum meet Doomriders meet old Mastodon meet Neurosis. Very intense and "groovy" stuff, highly technical but not too complicated